Dr. Janet Berens, DVM, ABVP and her staff of qualified and caring veterinary medical staff look forward to serving your pets needs from our full-service Woodland Hills, CA animal hospital.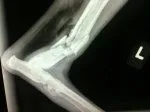 We offer:
Full-service Medical & Surgical Care for your dogs, cats, birds, reptiles, and small animals. Dr. Janet Berens, DVM, ABVP is Certified in Avian Practice. Dr. Bruce Levine, DVM, ABVP is Certified in Avian, Exotic Companion Mammal, & Companion Animal Practices. Dr. Geoff Stein, DVM has special interest in exotics, particularly rabbits, reptiles, and rodents.
Dental Care for your dogs and cats. We now offer Non-Anesthetic Dentistries!
Boarding for your Dogs, Cats, & Birds.
Our state-of-the-art, in-house pharmacy, laboratory services, digital radiology, surgical suit, and Intensive Care Unit allows you to make West Valley Pet Clinic your one-stop for your pet's medical care. We are open for appointments during normal business hours Monday through Friday, and on Sundays. We are always available in an emergency, just call, day or night.
Dr. Matthew Ehrenberg, DVM of Cats Only Veterinary House Calls provides personalized medical home visits for your feline family members as well as in-home euthanasia services for cats and dogs alike.
For more information about Cats Only Housecalls visit: www.catsonly.com
Find Us On Facebook!
http://www.facebook.com/WestValleyPetClinic